When women first entered the nursing ranks during the Civil War, they wore dresses and skirts. It wasn't until the 1970s that women started wearing pants as part of their uniform, and it took even longer for them to start wearing scrubs. At first, scrub pants weren't made specifically for women, so they didn't fit women's figures properly. As more women joined the medical industry, companies began designing scrubs for women. Since scrubs convey assurance and authority to your patients and protect you from infectious agents and bodily fluids, you want to ensure they fit well and are comfortable.  So before you purchase your next pair of scrub pants, look for these six qualities.
1.      Perfect Fit
On a busy shift, the last thing you want to be worried about is pulling up your scrub pants or tripping over hems that are too long. Reputable medical apparel companies recognize that not everyone's body is the same. Most brands offer several size lines in addition to traditional women's sizing:
Petite sizes feature shorter hems, while waist sizes follow normal sizing conventions. These are a good option if you are 5'4″ or shorter.
Tall sizes follow normal sizing conventions but have longer hems. If you are 5'9″ or taller, these are a good choice.
Plus size styles are made for curvier women, so if you wear a size 12 or up, explore these options for a better fit around the midsection and hips.
When searching for the perfect fit, you want your scrubs to be loose enough to move in easily, but not so loose that fabric can get caught on door handles or medical implements. Every body shape is unique, but scrub pants are often sold in standard sizes. If you have a hard time finding the perfect fit, buy scrub pants that fit the waist and have the hem tailored specifically for you. Options for tailoring scrub pants include certain scrub shops that offer to tailor, some local dry cleaners also do tailoring or fix them yourself.
2.      Style
Since you spend so much time in your scrubs, you can add a little bit of your style to brighten your workday and your patients' stay.
Style of Fit
Gone are the days of boring straight and baggy scrubs that all look the same. If your workplace permits it, purchase scrub pants that fit your style, such as mid-rise, tapered or flared. Not only will you look great, but you'll feel more at home in your scrubs. Many scrub lines offer different styles of scrub pants:
Missy-fit scrub pants have a traditional silhouette similar to traditional pants you would find in the women's section of a department store. The fit is relaxed through the hip, seat and thigh.
Junior fit scrub pants have a lower rise and fit tighter in the hip and thigh, although they shouldn't be skin tight, as that could impede your movement in an emergency.
Unisex fit scrub pants are intended for men and women, so women should order a size down if they go with this option. These have a straight leg and are generally baggier than the other styles.
Athletic fit is more like athletic wear, with extra stretch and special features like mesh perforations. Jogger scrubs are a great example of blending athletic wear with scrubs.
Color and Pattern
Some workplaces require everyone to wear the same scrubs or assign colors to specific departments. If your workplace is flexible, choose colors that you like. Most scrub pants come in solid colors, so you can complement the patterned tops you choose. Or you can opt for black, which is universally flattering and goes with any colored or patterned top.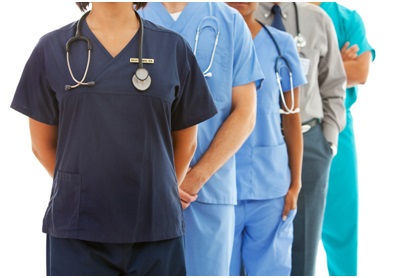 3.      Comfort
Pick fabrics that are soft against your skin since you'll be wearing them for long shifts. Knit panels can offer additional stretch for added comfort. Find the waistband style that works for you. Some people like the flexibility of the drawstring waistband, while others prefer the stability of an elastic waist. Working in the medical field is stressful, and you may find yourself under hot procedure lights at times. Opt for fabrics with features similar to athletic wear: moisture-wicking and breathable. This can help you stay cool and dry throughout your entire shift.
4.      Easy-Care Fabric
No matter what shift you work or who your patients are, your scrubs are going to get stained, so choose fabrics that repel fluid, soil and stains. Choose scrubs made from durable fabrics that won't fade or deteriorate with repeated washing, such as poly-cotton blends. Since you'll be washing them frequently in hot water to disinfect them, find scrubs that won't shrink.
5.      Pockets
From medical tools to gauze pads to pens to notebooks, medical staff members often need to carry numerous items while making their rounds. Storage on your scrub pants is crucial to ensure you always have your essentials close by and easily accessible. Make sure the scrub pants you purchase have the kind of pockets you like; they should be deep enough to hold what you need. Some pants come with the standard two pockets at the waist, but you can also choose cargo styles if you need more room for supplies.
6.      Quality
Scrubs pants are an investment in your comfort and protection at work. It's worthwhile to pay a little extra to get a pair that is designed to last. Look for scrubs with double-stitched seams and reinforced panels at high-stress points, especially around the pockets and waistband. Abrasion- and puncture-resistant fabrics and materials treated with antimicrobials can minimize wear and tear from contaminants and surgical instruments, helping your scrub pants last longer.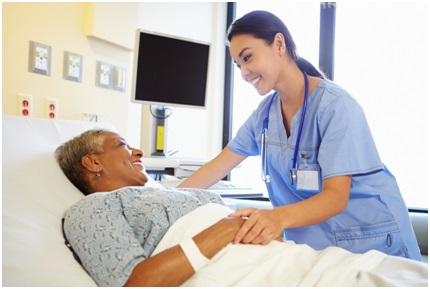 Focus on Scrub Pants That Fit Your Needs
Every individual working in the healthcare sector has unique needs. To find the right pair of scrub pants, you need to consider your work environment, typical hazards you encounter, the length of your average workday and the kind of duties you perform. You also need to account for your body shape and fashion sense to ensure you are not only protected while on the job but look stylish too.