What is Neurocosmetics?
Neurocosmetics – The skin obtains information from our environment and generates a response to adapt our body to external conditions. It is a fast and efficient network that transmits all the knowledge acquired: the nervous system. Nerve endings present in the dermis act as receptors of external stimuli and are responsible for the sensory skin system. For example, thanks to the action of these nerves, we can feel cold when the temperature drops or pain when we are injured.
This skin-nervous system communication is not unidirectional. Changes that occur in our nerves can result in skin disorders. A daily example that illustrates this relationship is the redness we suffer when we are ashamed or the paleness of our face in panic situations. In addition, hormonal imbalances that affect our brain could manifest on the skin, such as acne or dermatitis.
Discover the Neurocosmetics of FACIALDERM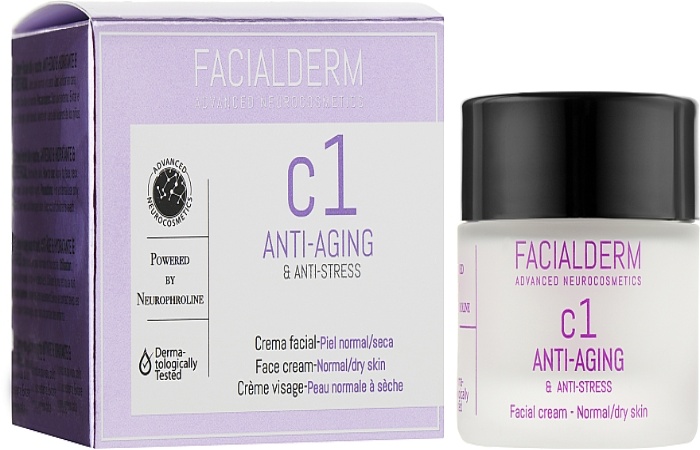 FACIALDERM's skincare offering is based on promoting skin health and wellness through advances in neurocosmetics. The objective of FACIALDERM serums and face cream for dry skin is to fight against the first signs of ageing and visibly reduce the consequences of skin stress that damages the skin barrier and causes premature ageing.
The skin and the brain derive from the same embryonic tissue. Our skin has nerve endings and sensors that connect external stimuli to our mind, which establishes a dialogue through 800,000 sensory receptors. Knowledge of this link between the skin and the brain has given rise to neurocosmetics, which seeks to tackle the causes and negative consequences on our skin created by our mind, so often affected by stress, the pace of life, etc
Over time or due to stress, these communications between the skin and the brain deteriorate. When receptors lose their functionality and nerve connections weaken, the transmission reduces, causing skin disorders.
Facialderm's Anti-Stress & Anti-Aging Facial line combines dermatology and neuroscience, repairs connections and treats the dermis against the consequences of stress, improving tone and luminosity. As a result, the skin regains its strength and energy and can react better to stimuli and attacks by resuming this dialogue. In addition, the skin and the brain are reconnected with the help of formulas containing Neurophroline TM, the active protagonist of the whole range.
Facialderm's neurocosmetic proposal improves these stimuli related to well-being and energy and, in our case, focuses on reducing the symptoms of facial stress. It is an ideal range for women who suffer from anxiety. It helps maintain sensory receptors in perfect condition and provides a powerful anti-ageing treatment, which prevents the signs of ageing.
Products D-Stress
D-Stress improves stress resistance, reduces fatigue and helps restore average intellectual performance.
Product Description
for 20 years, d-stress® has helped reduce fatigue and better manage stress
The formulation of D-Stress® is the reference on the market and has been the subject of an international patent. D-Stress® contains magnesium, taurine, arginine and B vitamins.
Magnesium and Vitamins B2, B3, B5, B6 subsidize energy metabolism and reduce fatigue.
The Magnesium and vitamins B1, B2, B3, B6, B8 are tangled in the normal functioning of the nervous system.
Pantothenic acid (vitamin B5) helps improve resistance to stress and restore average intellectual performance.
Serum Face Boosters
How to use Booster Serums
You can opt to use serum face boosters either on their own or mixed with another product. If you choose to use them on their own, work 1-3 drops (or more, per manufacturer's instructions) into cleansed (and, if you wish, toned) face. Then, follow up with serum and moisturizer.
Another way is to mix 1-3 drops of the booster with a moisturizer in the palm of your hand and apply the mixture after cleansing. You will notice that you will not need nearly as much moisturizer as before using a booster.
The beauty of booster serums is that they can improve the benefits of your creams or replace your usual toner or serum.
Benefits Of Using A Serum Booster On The Face
Any skin care product and its benefits will be liable for your specific skincare needs. The benefits you can expect from using a serum booster on your face:
Smoother Surface: The addition of collagen and retinol in some facial serums help reduce the appearance of fine lines and wrinkles, creating smoother, younger-looking skin.
Protection: Serums help protect facial skin from the effects of free radicals, such as pollution, UV rays, poor diet, smoking, etc.
Soothing – Facial serums are especially beneficial for sensitive, oily, and acne-prone skin. They are often gentler than other facial products and help soothe skin problems.
Moisturizing – Serums work with your moisturizer to help lock in moisture. It results in reduced areas of dryness and fresher, healthier skin.
Face Beauty Formula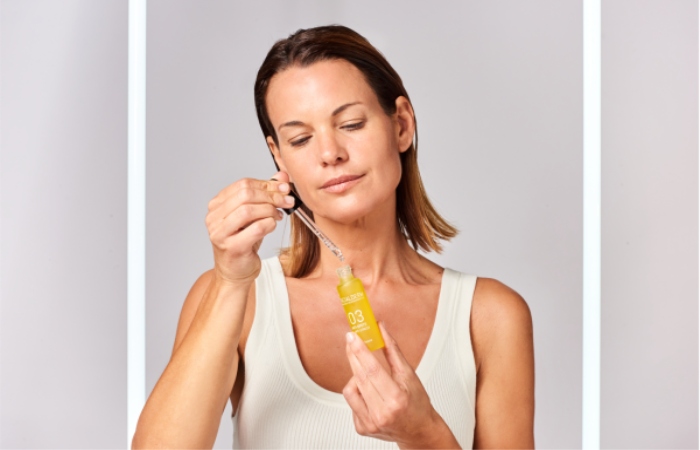 Tip 1: Always Clean
Skin cleanliness is non-negotiable in terms of skin hygiene. A good cleanser removes dirt and bacteria and removes makeup, other oil-soluble particles, and excess oil. It also ensures that your other skin products can do their job correctly, allowing them to penetrate deeply.
Tip 2: Moisturize Twice a Day
A good moisturizer softens and hydrates the skin by retaining moisture and creating a barrier between the skin and the environment. Your skin needs to moisturize twice a day, morning and before bed.
Tip 3: Repair your Skin, if Necessary
If your skin looks dull and dull, it might be time to give it a little more attention. In addition to regular exfoliation, ask your dermatologist or esthetician about specific skin repair products. A good solution can be a serum or a mask.
Face Cream For Women in Neurocosmetics
1. Neutrogena Hydro Boost Water Gel
Neutrogena Hydro Boost Water Gel is a must for anyone with dehydrated skin. This oil-free moisturizer instantly soothes dry skin, leaving it looking supple, soft and hydrated. In addition, the hyaluronic acid in this formula pulls water to the skin and helps prevent moisture loss. You can use this moisturizer alone or under your makeup as a base.
2. Biotique Morning Nectar Flawless Skin Moisturizer
With the natural ingredients on your skin, this Biotique moisturizer is one of the top Ayurvedic moisturizers. And also, This formula is blended with pure honey and seaweed and drenched into the skin to replace natural oils and replenish lost moisture for a visibly fresher complexion. It is suitable for all skin types.
3. Dot & Key 72 HR Moisturizing Gel + Probiotics
If you're looking for a moisturizer that will keep your skin hydrated for long hours, Dot & Key's 72-Hour Moisturizing Gel + Probiotics is your one-stop solution. Although, It is formulating with a combination of low and high molecular weight hyaluronic acid, kombucha, fermented rice water, and probiotics. As its name suggests, this gel-based moisturizer provides 72 hours of long-lasting hydration. Strengthens skin's moisture barrier while targeting environmental aggressors like UV rays and pollutants to give you smooth, dewy, glowing skin.