If you want to keep your brittle nails in tip-top condition, you should probably look for the best nail file for natural nails. And while today's nail care market is overflowing with offers, a glass nail file is always a win-win option. Not only are glass files gentle and safe on your nails but also lightweight, eco-friendly, and stylish.
If you're on the lookout for the best fingernail file for the nails that are prone to chipping, splitting, and/or deformity, you should check out our brief breakdown of some great options available on the market.
#1 GERmanicure Crystal Glass Nail File Set in Suede
It's difficult to find a reliable one-size-fits-all glass fingernail file that can completely satisfy your individual nail needs. This glass nail file set can hit the mark, though.
For the immaculate, fresh-from-the-salon look of your nails, use all the products in the set. Start by using a manicure stick, whose shape is well-suited for filing hardened cuticles, dry calluses, and pesky hangnails at the sides. This is also the best glass nail file for dehydrated splitting nails. Standard nail glasses that come in different sizes can help you achieve the ideal nail shape in just a couple strokes. And don't forget to add the finishing touches to your manicure with an exquisitely shaped moonfile designed for effortlessly smoothing your ragged edges.
#2 GERmanicure 3 pcs Genuine Czech Crystal Mantra Glass Nail File in Suede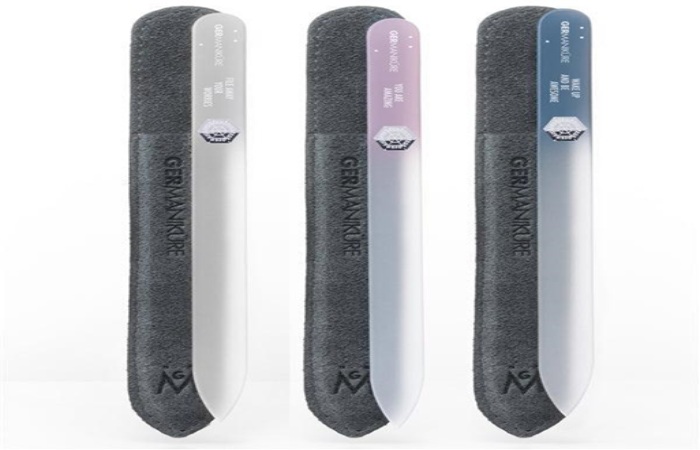 These products deserve your special attention if your goal is healthy natural nails free from snags, frays, and chips. The straightforward design turns these nail files into universal tools that can help you shape and polish your fingernails in the blink of an eye. A special technology used for manufacturing the given nail files guarantees the best result even for very dry and damaged nails.
It's also good to know that your glass file for nails can double up as a meditation and mood-boosting tool. GERmanicure's Mantra files feature fun inspirational phrases, which can motivate and cheer you up during each manicure session.
As you see, good nail files vary in size and color. And it's up to you to decide which option suits your mood, preferences, and specific needs.
#3 GERmanicure 2pcs Genuine Patented Czech Crystal Glass Nail Files Set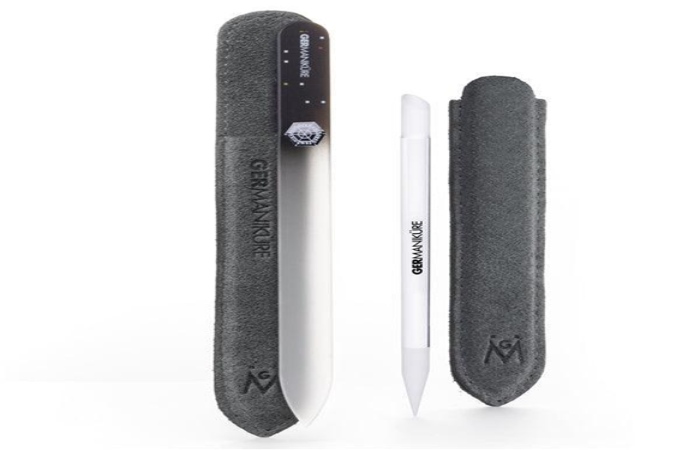 Grab this crystal manicure stick and 5.5-inch nail file, and you're all set to have an ideal manicure.
As noted earlier, a glass manicure stick is indispensable for gently removing dry cuticles and smoothing away ragged edges, especially in hard-to-reach areas. It's good to keep this tool handy for the impeccable natural-looking nail shape and snag-free feel.
The second item in this set is a crystal file that allows you to not only file down your nails to and fro but also neatly seal the edges with each stroke.
How Long Do Glass Nail Files Last?
All of the glass nail files mentioned above are made from high-quality Bohemian glass famed for not only for its exceptional elegance but also durability. The manufacturer relies on a patented technology, which allows creating a uniform surface texture chemically etched into the thick thermal-tempered Czech glass. Plus, there's a dedicated shockproof case your glass file comes in, which makes the product more resistant to everyday wear and tear. This all makes for the best nail file for weak nails that can serve you for many years to come.
How to Clean Your Glass Nail File?
All nail files made from quality Czech glass are sustainable, hygienic, and easy to clean. You can quickly wash your file with liquid soap and lukewarm water. Also, crystal files can withstand high temperatures (up to 170 degrees Celsius) and therefore can be disinfected in a steam sterilizer. Rubbing alcohol and peroxide are also safe to use on your glass files. You can even soak your tools in disinfecting solutions for several minutes to maximize the effect.
Now go ahead and pick the best nail file for your natural nails!