Summary: Sometimes, Outlook users need to merge Outlook data files into a single PST. In this post, we have discussed ways that can help merge PST files, without losing any data.  
Outlook is a powerful email client that offers many impressive features, such as high security, custom email rules, etc. It allows the users to create multiple email accounts within the application. This, in turn, creates multiple Outlook data (PST) files on the local system. These files sometimes become difficult to manage. So, for easy manageability, you can merge Outlook PST files into one. In this post, we'll discuss the methods that can help you to combine PST files.
Reasons to Merge Outlook Data Files
Here are some situations where you may need to combine Outlook PST files:
You may want to import multiple PST files of an old Outlook version to newer versions. You can merge PST files of old Outlook and create a single file for new Outlook.
When migrating from Outlook to another email client, you can merge all your existing PST files into a single backup file.
You can combine your personal, social, and work accounts in Outlook into one centralized account by merging the appropriate PST files.
How to Combine Outlook Data Files?
You can follow the given methods to merge PST files:
1. Merge PST Files within Outlook
You can merge Outlook data files manually by using the Outlook application. The process is divided into two parts:
Part 1: Create a New PST
First, you need to create an empty PST file. Follow these steps:
Launch Outlook and go to New Items > More Items > Outlook Data File.
Provide a location for saving a new PST file, and name the file.
Click the OK
Part 2: Import Existing PST Files to New PST
Now, you need to import the existing PST files into the new PST file. Here are the steps:
Go to File > Open & Export > Import/Export.
In the Import and Export Wizard that opens, select Import from another program or file and click the Next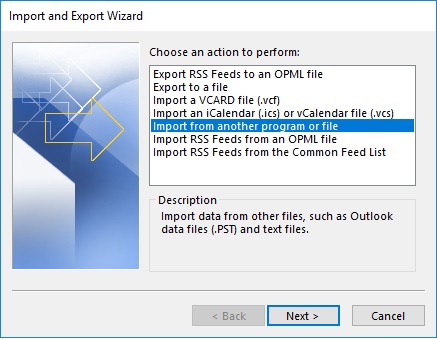 3. In the Import a File window, select Outlook Data File (.pst) and click Next.
4. Click the Browse button and select the PST file you want to import. Under Options, select Do not import duplicates. Then click Next.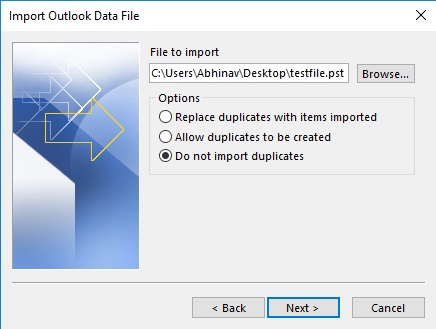 5. Select the folder you want to import from and select the Include subfolders checkbox and Import items into the same folder.
6. Click Finish.
This will import the selected PST file. However, if you've multiple PST files, you need to repeat the above process (Step 2) to import every single file.
2. Merge PST Files Instantly with Specialized Software
You can use a dedicated PST merge software such as Stellar Merge Mailbox for Outlook to combine a large number of PST files in one go. The software also ensures data integrity throughout the merging process.
Benefits of the PST Merge Software
The PST merge software offers the following benefits:
Combines PST files while maintaining data integrity
Removes duplicate data while merging
Purges deleted items and folders
Merges password-protected PST files
Saves merged PST files to new/existing PST, Office 365, Outlook profile, and Exchange server
Compatible with Windows 10, 8.1, 8, 7, Vista, Windows Server 8, and Windows Server 12
To merge Outlook data files by using the software, follow these steps:
Launch the software and click the Add PST button to add the PST files you want to merge. You can also drag and drop the PST files.
Note: If you don't know the location of PST files, click the Find PST button. 
Select the PST files that you want to combine into a single PST and click Next.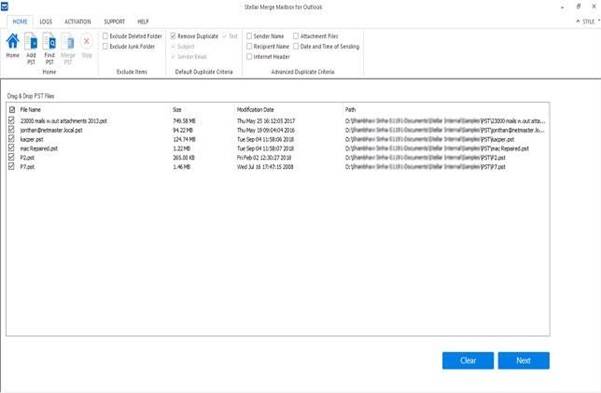 3. The software then starts scanning the files and displays progress in a status bar. Once scanning process is complete, you can select appropriate options under Saving Options and the desired location to save the merged file.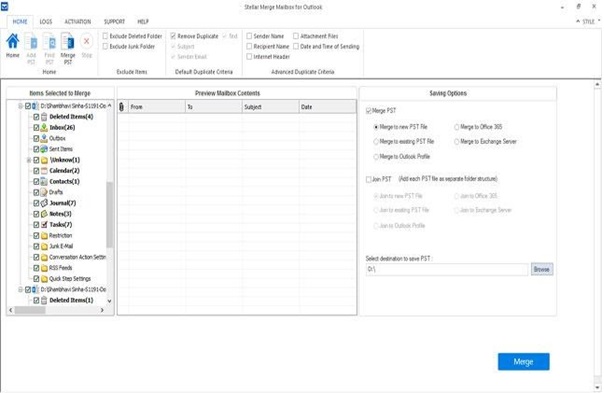 4. Click Merge to merge Outlook data files.
5. Once the merging process is finished, the software will display the 'Process completed' message. Click OK.

Conclusion
If you have multiple PST files, you can merge them into a single PST file for easy manageability. You can manually merge Outlook data files by using the Outlook application. However, the manual process is time-consuming and may pose a risk of data loss. To ease the merging process and avoid the risk of data loss, you can use a third-party Tool such as Stellar Merge Mailbox for Outlook that can merge multiple PST files, in a few clicks.
For More: Beau Center
Also Read: Aloe Vera Submit Guest Post