Glycerin is a popular ingredient used in several cosmetics and hair care products. It acts as a natural humectant, meaning that it can attract and draw moisture to your hair and scalp and hold it there.
This intensely moisturizing and affordable ingredient has long been a part of the beauty regimens of most women. But did you know how exactly glycerin works on your hair? We give you the full lowdown on what glycerin is and how it benefits your hair. Keep reading for more.
What Is Glycerin?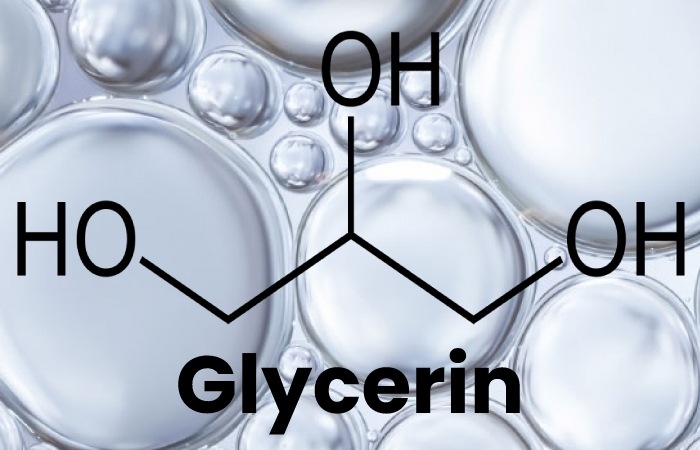 Glycerin or glycerol is a colorless, odorless, and thick water-soluble liquid used in many beauty products. It is a sugar alcohol that can be derived from animal products, plants, and petroleum.
Glycerin is also a humectant, which is a substance that tends to absorb water or moisture from the surroundings and limits its evaporation.
Why Is Glycerin Used In Hair Products?
Glycerin is a part of many hair care products and homemade hair masks. It's added to shampoos, conditioners, serums, and oils, among other products.
Its qualities of transparency, smoothness, and thickness make it an ideal base for adding other ingredients to create moisturizing products.
Additionally, glycerin absorbs water from its surroundings, making it an excellent ingredient for hair products. It also has anti-inflammatory and anti-irritant properties that can help eradicate itchiness in the scalp.
Benefits Of Glycerin For Hair
1. Deeply Moisturises And Hydrates Hair
Glycerin is one of the best-known humectants alongside honey. It helps return moisture to dry hair and improves the scalp layer by hydrating it, thereby preventing dandruff. It also conditions the hair, reducing dryness, frizziness, and breakage.
2. Removes Split Ends
Split ends occur when the ends of your hair become brittle, dry, and frayed. Using glycerin moisturizes and strengthens the hair from within, which helps in treating and preventing split ends.
3. Promotes Hair Growth
Glycerin can be used to achieve strong and fast-growing hair. It naturally nourishes the hair and reduces dryness and breakage. As a result, your hair growth is optimized.
4. Reduces Scalp Itching
Generally, the scalp gets dry in the winter. Glycerin has anti-inflammatory and moisturizing properties that can protect your scalp from dryness-related issues like an itchy scalp.
5. Repairs Damage
Heat styling tools, pollution, and harmful chemicals in your hair care products can undoubtedly harm your hair. Glycerin helps repair weak and damaged hair, owing to its serious moisturizing and conditioning properties. It also helps keep your roots nourished and healthy.
How To Use Glycerin On Hair
Never use undiluted glycerin as it is highly humectant and can absorb all the water from its environment. If you were to apply glycerin without water, it would leach all of your cortex's water. It is necessary to dilute glycerin with water before you use it on the hair or scalp.
Glycerin can be very effective when mixed with the ingredients mentioned below. Here's how you can use it for your hair.
1. Hair Spray
You can create a natural hair spray by mixing glycerin with water and an oil of your preference. You can also dilute it with distilled or rose water for fragrance and added nourishment.
A. Glycerin + Olive Oil
Olive oil promotes blood circulation in the scalp and deeply nourishes it. Owing to its antioxidant properties, it helps combat skin infections and many scalp issues. Add two tablespoons of vegetable glycerin and a tablespoon of olive oil to a cup of distilled water. Store it in a spray bottle.
B. Glycerin + Coconut Oil
Coconut oil strengthens the hair by providing deep conditioning to it. It's rich in vitamins and essential fatty acids. Add 1-1 tablespoon of glycerin and coconut oil into a cup of water and use the concoction as a hair spray.
C. Glycerin + Jojoba Oil
Jojoba Oil protects the hair from breakage, dryness and split ends. It also promotes hair thickness and prevents hair loss. Add 2-3 tablespoons of jojoba oil in one cup of water to create a natural hair spray.
2. Hair Conditioner
Glycerin is one of the best natural conditioners for the hair. You can add glycerin into your conditioner in the ratio of 1:5. Mix it thoroughly and apply it to wet hair after shampooing. Leave it on for 3-5 minutes and rinse off with plain water.
3. Hair Mask
If you want to avoid problems such as dry hair and split ends, you can create a natural hair mask using glycerin and ayurvedic herbs like fenugreek, reetha, and shikakai. Some other beneficial ingredients for a glycerin hair mask include:
A. Lemon Essential Oil + Egg + Glycerin
Lemon oil helps control buildup in the hair and maintains scalp health. It has antibacterial properties that can reduce oil and dandruff. Rich in protein and biotin, eggs can provide intense nourishment to damaged hair.
Add 3-4 drops of lemon oil and two raw eggs to a tablespoon of glycerin. Mix it well and apply the mask to your scalp and hair. Leave it on for 30 minutes and rinse with water.
B. Castor Oil + Egg + Glycerin
Castor oil makes the hair thick and strong while promoting hair growth. Mix two tablespoons of castor oil and a raw egg to three tablespoons of glycerin. Mix it well and apply it to the hair and scalp. Leave it on for 20 minutes before washing off.
C. Aloe Vera + Glycerin
Aloe vera is rich in amino acids, nutrients, and enzymes that make the hair shaft healthy. Combining aloe vera and glycerin adds moisture to the hair and provides it with vital nutrients. Add 2-3 tablespoons of glycerin to some fresh aloe vera gel. Apply the mask on your scalp and hair and leave it on for 15-30 minutes. Rinse with lukewarm water.
D. Honey + Glycerin
Honey has both emollient and humectant properties. It moisturizes the hair, locks in shine, and helps restore its natural luster. Add three tablespoons of honey and two tablespoons of glycerin and water. Apply the mask to your scalp and hair. Leave on for 20 minutes before washing.
Who Can Use It?
Glycerin is hugely beneficial for individuals with Vata dosha as they are more prone to having dry, frizzy, and brittle hair. You can also use glycerin for curly hair as it can especially help define your curls and minimize frizz.
When To Avoid Glycerin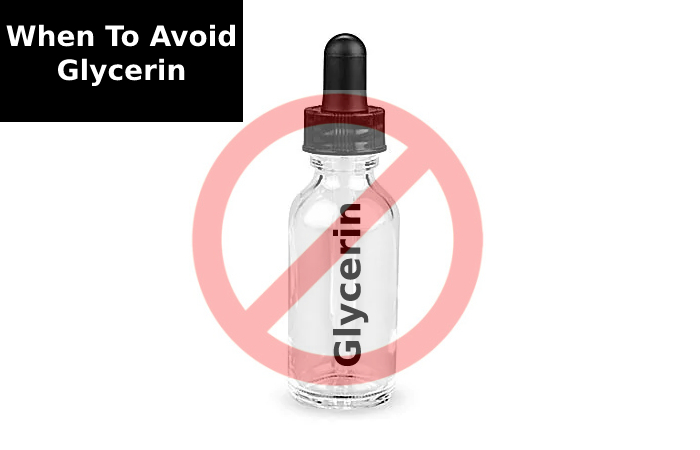 It would help if you considered weather conditions before using glycerin for your hair. If the air is drier than your hair, glycerin can draw out moisture from your hair to balance the moisture in the atmosphere. This is common in dry climates with low humidity, and that's when you should avoid using glycerin-based products.
How Much Glycerin Should You Use?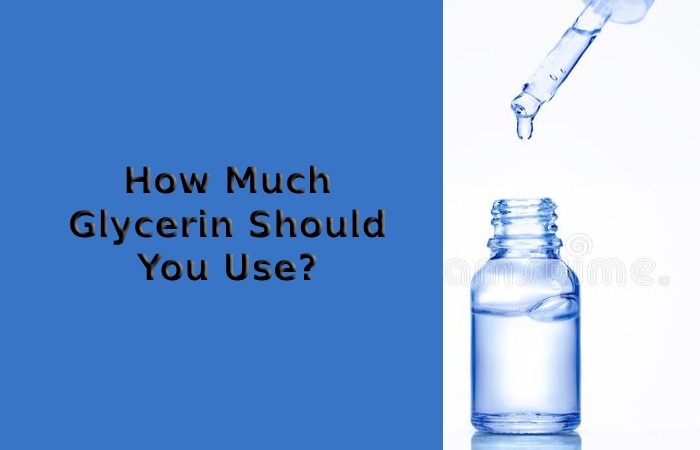 If you use glycerin in a hair spray, you can mix equal quantities of plain or rose water and glycerin. On the other hand, if you're using glycerin in a mask or conditioner, a few drops will suffice as long as you mix it with other ingredients that provide moisture to your hair.
What Type Of Glycerin Is Good For Hair?
1. Natural Glycerin
Natural glycerin is of two types – vegan and non-vegan. Vegan (vegetable) glycerin is derived from plants like coconut, palm, soy, etc. Non-vegan glycerin is derived from animal fat.
2. Synthetic Glycerin
It is petroleum-based glycerin found in food, nutritional supplements, and pharmaceutical drugs.
Opt for naturally derived glycerin as it is organic and contains natural humectants.
Conclusion
Glycerin is an extremely effective moisturizer and humectant for your hair. It is also a fair-weather friend. When the humidity outside is just right, glycerin can help your hair look and feel great. However, when the weather gets too dry, glycerin can't pull enough water to itself, so it loses its effectiveness.
You can also bid farewell to dry and damaged hair by balancing your dosha level. At Vedix, we customize hair care regimens based on your dosha level and hair type.