COVID – At the start of the COVID-19 pandemic, healthcare providers scrambled to adjust to the demands of the needs of their patients while keeping themselves safe and preventing further spread of the disease. A steep learning curve occurred for providers and healthcare consumers alike. Many of the changes that took place were foreign and uncomfortable at first, but now feel normal.
All healthcare workers struggled with new technology and unforeseen changes while swaddled head to toe in PPE that chafed, as well as limited vision and even mobility. Constant hand sanitizing created cracked skin, and some found relief in cuticle treatment and hand masks created with healthcare workers in mind.
As the pandemic continues to affect our nation many of the changes that seemed temporary are becoming permanent. Let's look at some of the changes that will likely stay with us.
Telehealth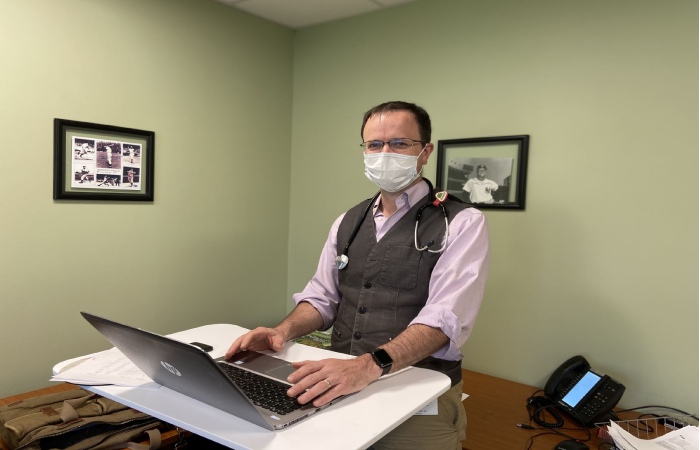 The rise of the uses of telemedicine was meteoric during the start of the pandemic. The use of cellphones, tablets and personal computers to have video calls with healthcare providers sped up access to care without the patient having to leave home.
The ability to see more patients in less time, along with scheduling flexibility, also created better access to care for more people. It also allowed healthcare providers to work remotely. Some providers reported an improvement in the state of their work/life balance as a result.
Telehealth can create better access to healthcare for many people and has improved outcomes. There are drawbacks, in that the use of telemedicine depends on access to reliable internet, high-quality connections and access to the devices required. Patients in rural areas or those who cannot afford the devices or internet services will continue to struggle for access to appropriate healthcare.
Remote Monitoring
Some health care utilized remote monitoring during the COVID pandemic. Research has shown that remote monitoring proved to be successful at reducing hospitalizations and improving outcomes for at-home recovery. Patients were supplied with equipment to monitor vital signs  that were monitored daily and utilized telehealth technology to engage in follow-ups.
With recent progress made in healthcare technology, remote monitoring is becoming more and more sophisticated. There is a wide variety of devices used for remote patient monitoring, such as:
Implanted devices such as pacemakers and defibrillators
Wearable blood glucose monitors
Cardiac monitors
Maternity care trackers
internet-connected scales
Wearable movement monitors
Even functional contact lenses for monitoring eye conditions
Continuous monitoring as well as consistent real world, real time data collection can alert healthcare providers to changes that indicate a need for intervention. This allows for early detection and treatment while reducing the need for in-person hospital visits.
For patients with chronic conditions such as diabetes or cardiac conditions, or patients recovering from surgery or COVID, remote monitoring can improve care and produce better outcomes. Remote patient monitoring will be with us to stay.
Changes in Nursing Homes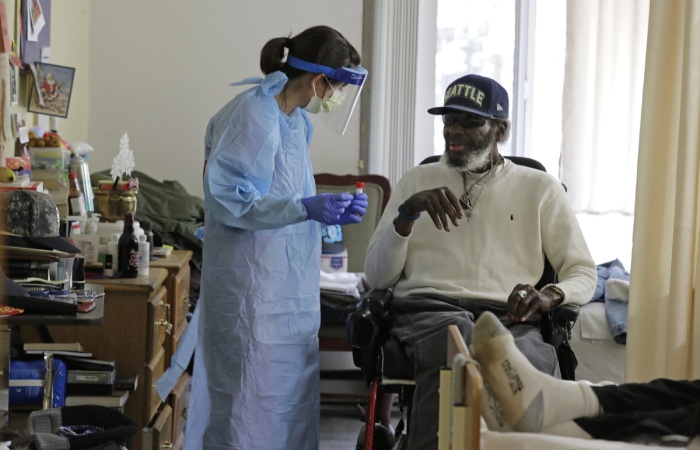 Nursing homes for the elderly or the chronically ill who need around-the-clock care were already facing staffing challenges and other issues before the COVID-19 pandemic. According to statistics, nearly 1 in 10 deaths in nursing homes during the pandemic were due to COVID.
Nursing homes were hard hit with COVID despite precautions such as total bans on visitation and frequent testing of staff and residents. This created a rapid shift to patients being cared for in residential facilities or in their own homes.
A rising senior population, combined with these factors, has created a demand for home healthcare providers. The Centers for Medicare and Medicaid Services has announced an increase in funds available for home health care going forward into 2022. This should help allow more seniors the ability to care for in their homes or the homes of family members, which will create safer elder care environments for them while allowing them a sense of independence and easier opportunities for connecting with family and loved ones.
Community Access to Healthcare
Due to the contagious nature of COVID-19, healthcare providers and other front-line workers started creating greater access to healthcare in the community. From drive-through testing and vaccination sites to home health monitoring and telehealth options, and even the old-fashioned house call, healthcare consumers were suddenly able to access health care from their homes, their workplaces and even their cars.
Now that the average American is accustomed to these changes, many of them are likely to become commonplace going forward. The Department of Health and Human Services has identified access to health care to be a priority in creating a healthier American population by the year 2030.
Better Understanding of Mental Health Needs
While many Americans struggled with mental health challenges prior to COVID-19, the pandemic has certainly brought the need for good mental health care into the national conversation. People of all backgrounds started to talk openly about the stress of coping with isolation, as well as the fear of COVID, and this began to normalize mental health issues.
Witnessing the well-publicized struggles of frontline and healthcare workers during the pandemic also helped to bring the need for appropriate treatment and support for good mental health while destigmatizing mental health challenges in general.
The CDC and the National Institute for Mental Health have both committed to working toward creating better mental health for all Americans as we continue to grapple with a worldwide pandemic and contend with the "new normal."
The COVID pandemic is, unfortunately, far from over, but we are already seeing the ways in which the effects of the pandemic and the response to it have changed the face of primary care forever.