Long Distance Travel – Going on a holiday is always a dream! After working long hours in the office and saving up to enjoy life, it's always a good idea to go on a vacation, once in a while. Depending on where you're headed, some trips may require a lot more planning and preparation than others. But, once you've reached your destination and you're ready to enjoy the holiday, you'll soon realize all that effort of preparing was valuable.
Here, the focus is on long-distance travel. While the prospect of staying trapped in your car, in an airplane seat, train, or boat may seem quite daunting, it's also not one that's impossible to do. The success of your long-distance holiday also means preparing for whatever contingency may arise like having names and numbers of doctors and personal injury lawyers Fasig and Brooks and others in your destination so that if something does happen, you're mentally prepared to tackle the obstacle well enough not to panic.
This article gives you the ultimate guide on how you can prepare your mind and body for long-distance travel.
1. Exercise Before Your Trip
If you've given exercising a break, then you may want to start exercising again before you engage on your long-distance trip. Exercising can keep you healthy, and this is what you'll want your physical state to be for the trip. Especially because you're going far, the last thing you'll want is to get sick during the holiday.
Also, exercising can give your body more movement, so it's fluid enough to manage being cramped for a few hours on an airplane or inside the car.
Most importantly, you've just spent time, money, and effort to travel far. Once you've reached your destination, your body should be able to withstand walking long hours, hiking, or whatever other activities you've planned for your trip.
2. Be Mindful Of What You Eat
Feeling bloated or gassy isn't an experience you'll want to go through when you're stuck in a plane or seat for too long. Also, if you're traveling to the opposite side of the world, you also have to be ready for that much-dreaded jet lag. You can't ruin the first few days of your holiday feeling blah because of the jet lag. One of the best ways to navigate through this smoothly is by being mindful of what you eat.
In this regard, the best meal options are carb-rich food, which makes it easier to cope with jet lag. This has to do with the high insulin secretion which comes from carb-rich food. Good levels of insulin can make it easier to transition from one sleep cycle to another.
Just be sure, however, to choose healthier carbohydrate options, like healthy pasta, oatmeal, and whole-grain bread.
3. Sleep Well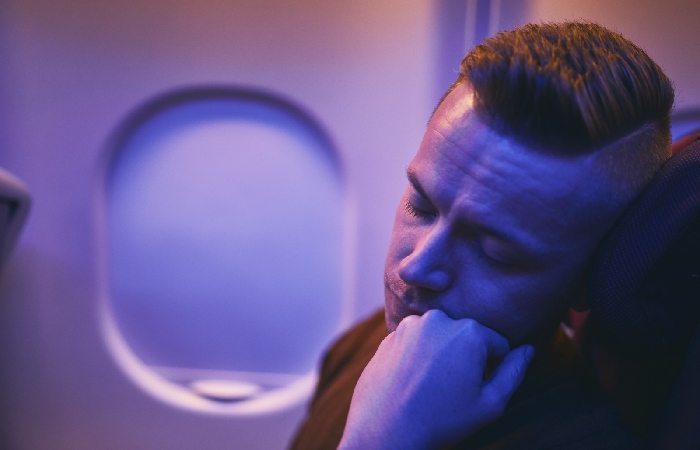 On the week leading to your long-distance trip, be sure to give yourself the required seven to eight hours of sleep. No matter how busy you are, just sleep. You need to give your body that reserve of energy, so you're ready for the long trip ahead.
It's a bad start for your holiday when, the moment you leave your home you're feeling drowsy, weak, worse, and cranky, because you haven't had enough sleep. It's wrong to think you have eleven hours on the plane anyway, so you can catch up on your sleep. Unless you're flying business class, it's often difficult to find the right and the most comfortable position on a cramped seat on a couch to give you a good sleep. So, prepare for that early on.
Most importantly, having good sleep also makes your body healthy and more energized. You also need that to withstand all the carrying of bags you may have to go through. Or, if you're driving, then your mind and body are fresh enough to stay behind the wheel for a longer period.
4. Stay Hydrated And Pack Snacks
If you're driving, this is an advantage as you won't have to worry about the food and beverage restrictions that airports may have. Make good use of that advantage by packing as many snacks, food, and drinks as you can. All the more is this needed if you have young kids with you who may also be voracious eaters. Packing snacks should be a part of your mental preparation, as it can only add to your stress when you have rowdy companions who are complaining because they're hungry.
If you're traveling by plane, pack as much as you're allowed to bring. Don't neglect water. Traveling long-haul also necessarily entails staying well-hydrated.
Conclusion
Going on vacation opens up a lot of experiences you just can't turn a blind eye to. Whether by yourself, with your loved one, or with your family, there's always something to look forward to, when you're going out of your comfort zone to explore a new place you may have never gone to before. This also necessarily means going on long-distance travel. When you're planning for your next long-haul trip, good preparation can ensure it goes as smoothly as you want it to. This includes sound, mental, and physical preparation, as the tips above show.