Every so often, it is necessary to grab the family, go on vacation and build some memories while the kids are still young. However, while vacation time from the daily grind of work, errands and similar responsibilities is great, a break from working out is not. Therefore, figuring out which exercises will be easiest for you to fit into your family vacation schedule is important for staying fit during your downtime.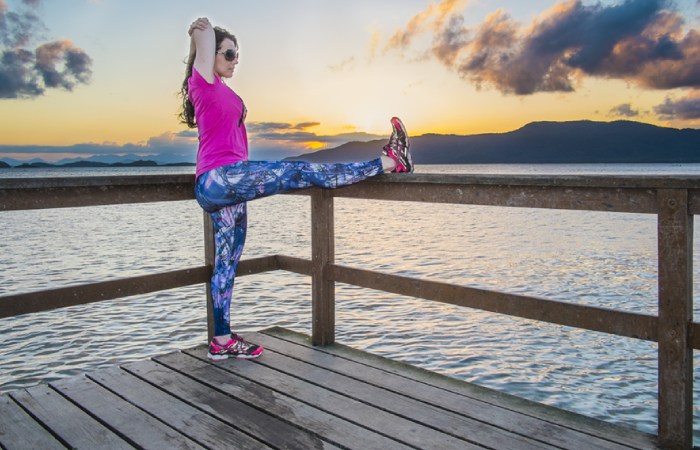 That said, depending on where you are vacationing, the environment (elevation, humidity, etc.) might be wildly different from the one in which you are used to exercising. Therefore, if you have a medical condition or even an allergy, it is highly recommended that you pick up a medical ID bracelet for your trip, just in case.
On that note, here are five essential vacation exercises to take with you on your trip.
1. Go for a Run
One of the easiest exercises to get in while on vacation is running. For this activity, you don't need to pack any special equipment, go to a local gym or anything else. You just need to wake up earlier than the rest of the family, strap on a pair of running shoes, download a location-sharing run tracker (in case you get a bit lost), put in your headphones and hit the pavement.
Even if you only get out a few times over the course of a weeklong vacation, you will feel much better than if you had completely indulged yourself during your time away from home. Plus, this can be a fantastic way to get out and explore the area.
Best of all is that running is a great way to burn fat, so you don't need to feel guilty about getting that uber-decadent dessert.
2. Squats
Another fantastic no-equipment-necessary exercise to do while vacationing with the family is squats.
Squats can be done with a minimal amount of room (meaning that they are perfect for cramped hotel rooms) and are going to help activate your hip flexors, hamstrings and other muscles you will be using quite a bit as you and the family walk around town, amusement parks or whatever else you may planned.
That said, walking is, in itself, an excellent activity to integrate as well.
3. Explore Areas on Foot
If you just can't manage to break away to go running or exercise in general, then get the family in on it by making the vacation activities as mobile as possible.
This means that if you and the family plan on exploring downtown, going sightseeing or checking out various destinations around town, skip the rental car or train and walk wherever possible.
While it may not seem like much, walking boasts many of the same benefits as running and it is a lot better than getting in no exercise whatsoever.
4. Planks and Push-Ups
Much like squats, planks can be done pretty much anywhere.
Just ask millennials.
However, if you are in relatively good shape and find regular planks to be too easy, then throw in a variation like one-armed or one-legged planks, side planks or push-up planks.
That said, if you are in the camp that believes planks to be a bad exercise, you can always opt instead to just do some classic push-ups. Push-ups, while not new and exciting, are great for working the shoulders, pecs, triceps and abdominal muscles.
5. Yoga
Finally, a great low-impact exercise to take with you on your family vacation is yoga. In fact, yoga is something that you and the family can all do together.
Not only does yoga work muscle groups that don't typically get target by more traditional exercises, but it is also a fantastic way to relieve stress, thus making it a perfect fit for vacation workouts.
Plus, if you aren't proficient enough in yoga to have a routine committed to heart, there are tons of guided routines on YouTube. Just head out to a grassy area of the hotel or the nearest park, set your phone nearby and you are in business.
Alternatively, if you do want to try and pop into a gym, yoga classes are extremely easy to find, so you will probably be able to catch a class without a problem.
Staying Fit on Family Vacation
Just because you are on vacation doesn't mean that it is necessary (or even okay) to neglect your body and jettison your workout routine for the week. While it is likely that you will need to modify your routine and even scale it back a bit, there are tons of great exercises that you can do while on a family vacation, especially if you stayed in an apartment complex with fitness centers such as pinewood square apartments.
While you are packing your bag for your next family trip, be sure to put some of the exercises listed above in your back pocket to help keep you fit no matter where you all go.